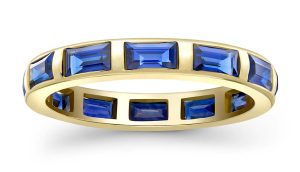 10 baguettes seamlessly set in 18ct yellow gold
From £X,XXX
THE GIFT
This is a Hattie Rickards' take on the classic eternity ring, using my favourite: the baguette cut. Versatile and timeless, the eternal ring is the perfect present for life's milestone moments; be it a big birthday, a promotion, a wedding anniversary or a push present – celebrate with the eternal ring.
MAKE IT YOUR OWN
Simply select from diamonds, rubies or sapphires and choose between 18ct white or yellow gold and we'll do the rest. 
MATERIALS
10 baguettes 5 x 2 mm set in 18ct yellow gold, available in diamond, ruby, and sapphire
All gift pieces handmade to order in Britain. Delivery in 6-8 weeks.