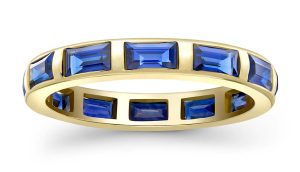 Square rubies, sapphires or diamonds set in 18ct yellow gold
From £X,XXX
THE GIFT
A variation on our Eternal Ring using square stones
MAKE IT YOUR OWN
Simply select from diamonds, rubies or sapphires and choose between 18ct white or yellow gold and we'll do the rest. You can also opt to engrave the inside of your personalised ring with initials, or a secret message. 
MATERIALS
Available in 18ct yellow gold with diamonds, rubies, sapphires and other gemstones
All gift pieces handmade to order in Britain. Delivery in 6-8 weeks.